This site is hosted by Yahoo! Store. Yahoo! hosts the store pages, ordering system, and order data. Yahoo! automatically collects order information but may only use this information in the aggregate. If you accessed this store through Yahoo! Shopping, Yahoo! also automatically collects information about your shopping experience. Please see the Yahoo! Privacy Policy for more information about how Yahoo! uses this information.
---
William ("Bill") Henry Rodgers
(born December 23, 1947) is an American runner and former American record holder in the marathon who is best known for his victories in the Boston Marathon and the New York City Marathon in the late 1970s.
He was born in Hartford, Connecticut. Rodgers won both races four times each between 1975 and 1980, twice breaking the American record at Boston with a time of 2:09:55 in 1975 and a 2:09:27 in 1979. In 1977 he won the Fukuoka Marathon, making him the only runner ever to hold the championship of all three major marathons at the same time. He made the 1976 U.S. Olympic team and raced the marathon at the Montreal Olympics in 1976, finishing 40th. He did not participate in the Olympics in 1980 due to the U.S. boycott over the invasion of Afghanistan by the USSR.
In 1975 he won the bronze medal at the IAAF World Cross Country Championships, equaling Tracy Smith's 1966 bronze in the International Cross Country Championships as the highest an American had ever finished in international cross country competition. Rodgers' most remarkable year on the road racing circuit came in 1978 when he won 27 of the 30 races he entered, including the Pepsi 10,000 meter nationals (with a new world road 10K best time of 28:36.3), the Falmouth Road Race, and the Boston & New York marathons. Rodgers is also the former world record holder for 25 kilometers as he broke Pekka Paivarinta's world record with a time of 1:14.11.8 on a track in Saratoga, California in 1979.
Track & Field News ranked Rodgers #1 in the world in the marathon in 1975, 1977 and 1979. 28 of the 59 marathons Rodgers ran were run under 2:15. In all he won 22 marathons in his career.
Rodgers received his B.A. in sociology from Wesleyan University, where his teammate Amby Burfoot also won the Boston Marathon while still a student. Rodgers also has an MS in special education from Boston College.
Rodgers was inducted on December 3, 1999, in Los Angeles, California to the National Track & Field Hall of Fame located in Indianapolis, Indiana. In 1998, Rodgers was inducted in the first round to the National Distance Running Hall Of Fame in Utica, New York.
The Bill Rodgers Running Center in Boston, Massachusetts is owned and operated by both Bill and his brother Charlie. The family run business has been going since 1977. Contents [hide]
---
1 Marathons


2 Awards and distinctions


3 Personal track records


4 Personal road records


5 Major road race wins


6 Books


7 See also


8 Audio interviews


9 External links
---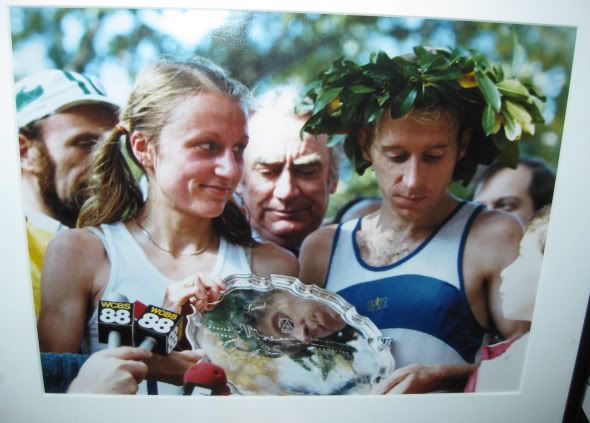 Marathons
1. 1973 Boston Marathon (Did not Finish)(DNF)


2. 1973 Baystate Marathon (2:28:12) 1st Course Record (CR)


3. 1974 Boston (2:19:34) 14th


4. 1974 New York City Marathon (NYC) (2:36:00) 5th


5. 1974 Philadelphia Marathon (2:21:57) 1st CR


6. 1975 Boston (2:09:55) 1st American Record (AR)


7. 1975 Enschede Marathon, Holland (DNF)


8. 1975 Fukuoka Marathon (2:11:26) 3rd


9. 1976 Olympic Trials (2:11:58) 2nd


10. 1976 Montreal Olympics (2:25:14) 40th


11. 1976 NYC (2:10:10) 1st CR


12. 1976 Sedo Island, Japan (2:08:23) 1st CR (200 meters short)


13. 1976 Maryland (2:14:28) 1st CR


14. 1977 Kyoto, Japan (2:14:25) 1st


15. 1977 Boston (DNF)


16. 1977 Amsterdam, Holland (2:12:46) 1st CR


17. 1977 Waynesboro (2:25:12) 1st


18. 1977 NYC (2:11:28) 1st


19. 1977 Fukuoka (2:10:55) 1st


20. 1978 Boston (2:10:13) 1st


21. 1978 NYC (2:11:28) 1st


22. 1978 Fukuoka (2:12:53) 6th


23. 1979 Boston (2:09:27) 1st AR


24. 1979 Montreal (2:22:12) 15th


25. 1979 NYC (2:12:12) 1st


26. 1980 Boston (2:12:11) 1st


27. 1980 Toronto (2:14:47) 1st


28. 1980 NYC (2:13:20) 5th


29. 1981 Houston-Tennaco (2:12:10) 1st CR


30. 1981 Boston (2:10:34) 3rd


31. 1981 Atlantica-Boavista, Rio de Janeiro, Brazil (2:14:13) 1st CR


32. 1981 Stockholm, Sweden (2:13:28) 1st


33. 1981 Bank One, Columbus, OH (2:17:34) 7th


34. 1982 Houston (2:14:51) 5th


35. 1982 Tokyo (2:24) 301st


36. 1982 Boston (2:12:38) 4th


37. 1982 Atlantica-Boavista, Rio de Janeiro, Brazil (DNF)


38. 1982 Big M, Melbourne, Australia (2:11:08) 1st


39. 1983 Orange Bowl, FL (2:15:08) 1st


40. 1983 Boston (2:11:58) 10th


41. 1983 Beijing, China (DNF)


42. 1983 Chicago (2:21:40)


43. 1984 U.S. Olympic Trials (2:13:31) 8th


44. 1985 New Jersey Waterfront (2:14:46) 2nd


45. 1985 NYC (2:15:31) 7th


46. 1986 Boston (2:13:35) 4th


47. 1986 Chicago (2:15:31) 11th


48. 1987 Phoenix (DNF)


49. 1987 Boston (2:18:18) 15th


50. 1987 NYC (2:25:01) 54th


51. 1988 Phoenix (DNF)


52. 1988 Los Angeles ( 2:20:27) 2nd masters


53. 1988 Boston (2:18:17) 2nd masters


54. 1988 NYC (DNF)


55. 1989 Los Angeles (2:22:24)


56. 1990 Boston (2:20:46) 5th masters


57. 1992 Vietnam International 19th


58. 1996 Boston (2:53)


59. 1999 Boston (DNF)



Awards and distinctions


1973 AAU All-American Long Distance Team (20K)


1975 National AAU- DI Benadato Award - Best Athletic Performance


1975 Nominated Sullivan Award (placed second)


1975 Ranked #1 in the World in the Marathon by Track & Field News


1976 Ranked #6 in the World in the Marathon by Track & Field News


1976 Member U.S. Olympic Team - Montreal, Canada


1976 AAU All-American Track & Field Team (10K)


1977 Ranked #1 in the World in the Marathon by Track & Field News


1978 Ranked #2 in the World in the Marathon by Track & Field News


1979 Ranked #1 in the World in the Marathon by Track & Field News


1981 Ranked #7 in the World in the Marathon by Track & Field News


1989 New York Road Runners Club Abebe Bikila Award


1989 Tiffany's Man of Achievement Award


1990 RRCA Masters of the Year Award


1992 RRCA Masters of the Year Award


1994 CT Sports Writers Alliance Gold Key Award


1999 Inducted into Long Distance Running Hall of Fame


2000 Inducted into USA Track and Field Hall of Fame



Personal track records


1 mile - 4:18.8


2 miles - 8:48 (indoor practice); 8:53.6 (1975)


3 miles - 13:25.4 (1976)


5 kilometers - 13:42.00 (1978)


10 kilometers - 28:04.4 (1976)


15 kilometers - 43:39.8 (1977 - American Record)


10 miles - 46:35


20 kilometers - 58:15 (1977 - American Record)


1 hour - 12 mi 1351 yd (20.556 km) (1977 - American Record)


25 kilometers - 1:14:12 (1979 - World and American Record)


30 kilometers - 1:31:50 (1979 - American Record)



Personal road records


10 kilometers: 28:16 (1983)


15 kilometers: 43:25 (1981)


20 kilometers: 58:43 (1982)


25 kilometers: 1:17:23


30 kilometers: 1:29:04 (1976 - Unofficial World Road Record)


Marathon (42.195 kilometers): 2:09:27 (1979 - former American record)







Major road race wins


Boston Marathon: 4 wins


New York City Marathon: 4 wins


Fukuoka Marathon: 1 win


Houston Marathon: 1 win


Amsterdam Marathon: 1 win


Falmouth Road Race: 3 wins


Lynchburg 10 miler: 5 wins


Cherry Blossom 10-Mile Run: 4 wins


Beverly Hills 10 km: 4 wins


Azalea Trail 10 km: 4 wins


Gurnet Classic Beach Run, Duxbury MA


Bloomsday 12 km: 1 win


Gasparilla 15 km: 1 win (first yr.)


Jacksonville 15 km: 1 win


BIX 7: 2 wins (incl. first yr.)


Big Boy 20 km: 3 wins



Books


Rodgers, Bill, Marathoning (with Joe Concannon) (1980) Simon & Schuster, ISBN 0-671-25087-6


Rodgers, Bill, Masters Running and Racing (with Joe Henderson (runner)|Joe Henderson and Priscilla Welch) (1995) Rodale Books, ISBN 0-87596-330-7


Rodgers,Bill, Bill Rodgers' Lifetime Running Plan: Definitive Programs for Runners of all Ages and Levels (1996) Collins, ISBN 0-06-273386-9


Rodgers, Bill & Douglas, Scott, The Complete Idiot's Guide to Running, 2nd edition (2003) Alpha, ISBN 0-02-864466-2


Derderian, Tom, Boston Marathon:The First Century of the World's Premiere Running Event, 1996, Human Kinetics, Champaign, IL, ISBN 0-88011-479-7